Sponsor

Search for magic items at Magic USA Auctions.com ! Use one word, or two for exact phrase.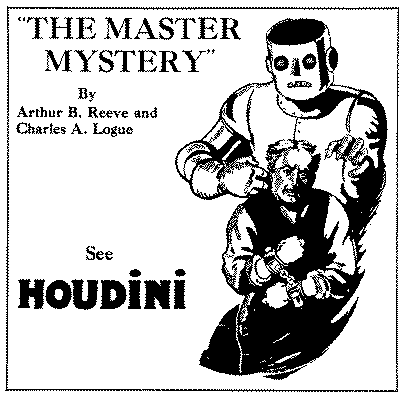 Of great interest to science fiction buffs, Houdini had the first robot ever in a motion picture!!!
Now Showing At The Houdini Museum. We currently play the 90 minute movie at the museum on a regular basis. Although a 90 minute silent film is not one that most people would watch these days, it is interesting from a historic viewpoint, adds athmosphere and allows people to see Houdini in another venue. The film includes a jail type escape, a fist fight with Houdini winning of course, and a sensational scene with Houdini swimming the rapids a Niagara Falls. This film and "Terror Island" is available from the gift shop.
For ad cuts from "MAN FROM BEYOND"

PRESS HERE. You will return back to this point.
Houdini was a star of movies in the silent film era of the 1920's. Make no mistake about it he was a film star and his movies allowed people throughout the world that had not seen him perform a chance to see him in action. He made five movies all of which played in the Scranton and Wilkes-Barre area. His first three films made quite a bit of money, but he was cheated out of his royalties and had to sue get some of it. He then went into his own film production company, but lost money on the venture, due in part to the fact that the movie companies were buying up the vaudeville theaters and created a monopoly that made it difficult for independant producers to get their films distributed. This was later broken up by the courts, but not in Houdini's era.
Included here are ads from the Regent, Strand and Poli Theaters in Scranton. "Terror Island," Grim Game," and Haldane of the Secret Service." His other movies were "The Master Mystery," which was a fifteen part serial, which featured the first robot ever in film film history, and "Haldane of the Secret Service." The Grim Game featured a jump from the wings of one plane to another. The film contained the first in-air plane collision ever recorded by a movie camera, and "Terror Island." Another ad depicts the showing of "Haldane of the Secret Service," at The Poli Theater where he had headlined live. It was the first movie with a "secret service" plot, Houdini being the "James Bond" character! In "The Man From Beyond," he did a daring rescue stunt on the brink of Niagara Falls. He also duplicated some of his escape stunts in the films
For various SCRANTON theater ads from the period PRESS HERE. You will then return back to this point.
On October 31, 1975 a bronze star was placed in his honor in Hollywood's famous Walk of Fame in the pavement of Hollywood Boulevard to honor Houdini's film career. It was placed in the most prominent place possible, right outside of the World Famous Chinese theater. He was chosen to be among the first of a beginning group of 60 stars that began the Hollywood Walk of Fame.
The Paramount film "Houdini," with Tony Curtis and Janet Leigh played in Scranton, as well as all over the world, to great success. Houdini is the only magician to have a full length Hollywood feature film made about his life.

Go back to

Houdini Museum Contents list.
Go to


LINK TO US. SIMPLE INSTRUCTIONS

© 1989-2003 by The Houdini Museum.No part of any of this document may be reproduced in any form, without written permission. The graphics have been retouched, computer enhanced and resized by the authors.



Houdini, museum, attraction, show, magic, Scranton, Pocono, Wilkes Barre, Steamtown, theater, vaudeville, pa, Pennsylvania, tour, bus, school, children, trip, trick, magician, travel, trick, escape, illusion,Houdini, museum, attraction, show, magic, Scranton, Pocono, Wilkes Barre, Steamtown, Pocono mountains,theater, vaudeville, pa, Pennsylvania, tour, bus, school, children, trip, trick, magician, travel, trick, escape, illusion,Houdini, museum, attraction, show, magic, Scranton, Pocono, Wilkes Barre, Steamtown, Pocono mountains,theater, vaudeville, pa, Pennsylvania, tour, bus, school, children, trip, trick, magician, travel, trick, escape, illusion,Houdini, museum, attraction, show, magic, Scranton, Pocono, Wilkes Barre, Steamtown, Pocono mountains,theater, vaudeville, pa, Pennsylvania, tour, bus, school, children, trip, trick, magician, travel, trick, escape, illusion,