NE POCONO
Tourist Friendly Restaurants, Attractions and Hotels
Pocono - Scranton Pennsylvania (QUICK LIST)
Official State Map of Poconos Mountain Region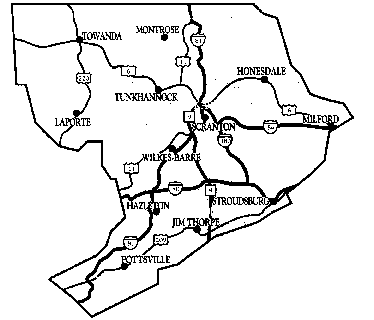 Honeymoon Hotel Packages. CLICK HERE NOW!

Businesses do not pay to be in this guide. Listing is free of all charges. To get on the guide contact our office. magicusa@microserve.net
Bernadette's Family Restaurant. Beach Lake. Popular menu and buffet. Near Carousel Play Park. THE place to eat in Beach Lakc.
CAROUSEL FUN PARK. Rt. 652, Beach Lake. (570) 729-7532. One price for all Fun Park, or pay as you go. Go Karts, Water Sports, Batting Cages, Arcade, Food. THE place for fun in Beach Lake.
Kuester's Motel. Rt. 652, Beach Lake. Many extras, pool, tavern, etc. THE place to stay in Beach Lake.

AAA Main, Carbondale.
Ben Mar Italian. 89 N. Main, Carbondale. (570) 282-5970. Fine Italian food and classic atmosphere.
Herritage House on the Park B&B 5 Park Place
McDonnells. Family style restaurant. Rt 6, 7 S. Main Street in Carbondale. (570) 282-5144
Oliveri's Crystal Lake Hotel County Lodge and Restaurant. Crystal Lake, Carbondale





Mid Valley Motel. Rt. 6, Scranton Carbondale Hwy. Eynon . Reasonable rates, friendly management.
Willoby's Pub & Eatery. Rt. 6, Scranton Carbondale Hwy, Eynon (570) 876-5210. Popular watering hole for all ages. Varied menu. THE place to eat in this area. Club and bar area is a popular local meeting place.

Al's Diner. Rt 590. Hamlin, PA. 18427. Hamlin corners. Friendly neighborhood diner.
CLAWS "N" PAWS WILD ANIMAL PARK. Rt 590, Rd 6, Hamlin. (570) 698-6154. A great area attraction. Hundreds of live animals close up. Closed Winter. See Coupon Page
Al's Country Diner Rt. 590, Hamlin. Quick stop to eat. Their soups are quite good.
Clayton Park Recreational Area
Comfort Inn. I-84 Exit 5. Hamlin, PA. Popular area stop for travelers. THE place to stay in this area.


Grandpop's Pizza. Rt. 590, Hamlin. (570) 698-6200. New York style pizza in a friendly athmosphere.
Kundla's Barbeque Rt. 590, Hamlin. The best outdoor barbeque in NE PA. People come from 25 miles around. Summer only.
Hamlin Mobil Mart Rt. 590, Hamlin. Quick stop for gas, snacks, tourist information, etc..
John's Italian Restaurant. Rt 590. Hamlin, PA. (570) 689 2659 Old world Italian food and pizza.
Kate's Restaurant. A friendly stop to or from Scranton and Lake Ariel.
Mister Z's Supermarket. Village Shoping Center, Hamlin. (570) 689 7791. A fast and low priced supermarket that serves the community.
My Brother's Place. Rt 590. Drinker, PA. (570) 689 4410 Excellent steak house, popular and really big portions.
Weiss Supermarket Hamlin. Another fast and low priced supermarket that serves the community.

COSTA'S FAMILY FUN PARK RT 6 Wallenpaupack area. PA.
Old Mill Stream 120 Falls Ave. Hawley, PA. A converted grand old stone mill over looking a must see roaring stream. Restaurant and hotel. Quite picturesque and unique.
Joe & Lorenzos Italian. On the Main Street in Hawley. Local pizza and Italian specialities. Tasty and fast. THE area spot for Italian food. Try their Chicken Catcatori!See Coupon Page
Lange's Restaurant. Hawley. (570) 226 2390 Family style restaurant.
Lakeside Diner. Hawley. Wallenpawpack area. Not open late. Popular breakfast stop
Morning Glories Bed & Breakfast 226 0644
Nemanie Village. Hawley. (570) 226 4518/857 0222
Ritz Theater. 512 Keystone St. Hawley. (570) 226-9752. Local summer theater. Very popular.


Bartans Family Restaurant Rt 6 & Rt. 652, Family style. Breakfast specials
Bunnell's Pond Resort. 587 Cliff Rd. Honesdale, PA.
Cordaro's Restaurant & Lounge. Rt. 6, Honesdale. (570) 353-3713. Excellent local diner next door to the very popular Lounge.
Donut Connection Rt 6, Great coffee and donuts.
Fife & Drum 100 Terrace, Honesdale. Resonably priced and THE place to stay in this quaint town.
Fun & Games Family Center Rt 6. Indoor arcade, etc.
Grandview Motel 160 Grandview Ave., Honesdale. Small local place to stay.
Ponderosa Pines Camp RR 3 Bx 1343 Honesdale.
Rainbow Mountain Campground Honesdale. Friendly and helpful staff.


Earl's Townhouse Restaurant 539 Washington Ave. Jerymn 876 1210 Family Restaurant
Windsor Inn 669 Washington Ave Jermyn. 876 4600 Award winning Buffalo Style Hot Wings

Lakawaxsen House. Lackawaxen.
Roebling Inn. Lackawaxen.

CAESARS COVE HAVEN COUPLES RESORT. THE place for a honeymoon, romantic getaway or even a wedding. Lakeville

Secluded Acres Campground. Lakeville




Secluded Acres Campground. Lakeville

-->
Cliff Park Inn & Golf Course PO Bx 88 Cliff Park Rd Milford

Mt Haven Resort Milford

Angel's Dairy Bar.New Foundland. (570) 676 3382 THE place for ice cream in this area. Great little restaurant as well. Guccini RealtyNew Foundland. 857 1164 Shadow Lodge MotelNew Foundland. SpankysRt 191-Rt. 507 Main St New Foundland. The HotelRt 191-Rt. 507 Main St New Foundland. 676 9094 White Cloud InnNew Foundland.
AJ's Fireplace. Tafton. Restaurant and bar. Popular watering hole. Right across from Lake Wallenpaupack
Edgewater Suites. Tafton. A nice place to stay right next to the lake.

COSTA'S FAMILY FUN PARK RT 6 Wallenpaupack area. PA.
SPIRIT OF PAUPACK CRUISE RIDES Fun sightseeing cruises on Lake Wallenpaupack. Great for company events PA.
Gresham's Lakeview Motel. Rt. 6, Wallenpaupack. Right near the lake.
IGA Supermarket. Rt. 6 & 590, Wallenpaupack. (570) 226-2002. Another friendly supermarket with good prices.
Lakeside Diner Rt. 6 Wallenpaupack.
Tuck em Inn. Rt 6. Wallenpaupack. Also just a little distance from the lake area.
Keen Lake Campgrounds. Waymart. Old fashioned campground with a lake, country store, fine professional entertainment, etc.
La Rustica Trattoria. Rt 6 & 296, Waymart. (570) 488 2268 Excellent New York style pizza. THE place for pizza and Itallian food in this area.
Valleyview Campground. Waymart. Friendly and helpful staff.

DORFLINGER GLASS MUSEUM. White Mills. (570) 253 1185 Museum and concerts. WILDFLOWER SUMMER MUSIC FESTIVAL.
Go to

Scranton's Houdini Museum.
Go to

Early theater history in Scranton.
Go to

Scranton's Grand RR Stations built because of Scranton's Iron, Steel and coal.
Go to

Old Railroad promoting clean (?) rides with Phoebe Snow.
Go to

SCRANTON HISTORY. Historic Jewel of the Pocono Region.
Go to

Tour 1 of Scranton. City skyline
Go to

Tour 2 of Scranton. Government buildings
Go to

Tour 3 of Scranton. A tour of Luna Amusement Park .
Go to

Tour 4 of Scranton. A tour of the old coal mining area.
Go to

East Stroudsburg History.
Go to

Delaware Water Gap History.
Go to

Jim Thorpe History.
Go to

Nicholson Bridge. World's Largest Concrete Bridge.
Go to

Stroudsburg History.
Go to

Wilkes Barre History.
Go to

(links)local hotels, local museums, more Houdini links, CityLink USA, etc. All with Web Site links
---
---
© 1989-2012 by MagicUSA. No part of any of this document may be reproduced in any form, without written permission. The graphics have been retouched, computer enhanced and resized by the authors.