NW POCONO
Tourist Friendly Restaurants, Attractions and Lodging (QUICK LIST)
Pocono - Scranton Pennsylvania
Official State Map of Pocono Mountains Region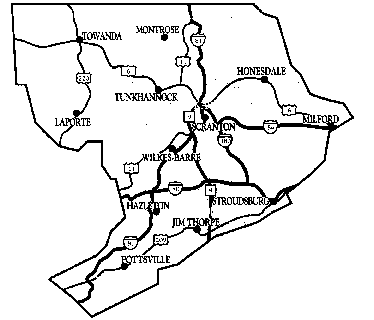 Businesses do not pay to be in this guide. Listing is free of all charges. To get on the guide contact our office. magicusa@microserve.net
Amici. 1300 Morgan Hwy. Clarks Summit, PA (570) 586 3000 Popular area Italian restaurant.
CARRIAGE BARN ANTIQUES 1550 Fairview Rd., Clarks Summit. 587-5405. One of the largest and best antiques shops in the entire Poconos.
Century 21 Ask for Sherrie Miller 109 E Grove 586 1000 Clarks Summit
Days Inn Clarks Summit, just outside of Scranton.


Friendly's Northern Blvd., Chinchilla-Clarks Summit, just outside of Scranton. (570) 587-1144. Friendly as the name says.
House of China 727 S. State Street, Clarks Summit (570) 586-1691 One of the better and most picturesque Chinese restaurants in the area.



Ramada Hotel. Clarks Summit
Summit Inn. Rts 6 & 11 Clarks Summit


Oliveri's Crystal Lake Hotel. Also serves homestyle Italian food. Popular area restaurant.

Ankit Quick Stop. (570) 563 1645 Stop here for gas and snacks.
Motel 81. Craig Rd. Fairly priced and just a bit out of town.

Blue Bird Diner ll. (570) 945-7686 Believe it or not one of the popular menu item is Buffalo.

Apple Valley Campground.Exit 66 off I-81
Paulie's Family Restaurant. Fast, friendly, good family style restaurant .

Liberty Quick Stop on 81. One of the favorite stops as you travel up 81 toward NY state.


Earl's Townhouse Restaurant.876 1210. 539 Washington Ave. Jermyn, A very popular family style restaurant. Excellent food, specials, and great prices.
Windsor Inn.876 4600. 669 Washington Ave Jermyn, Well known for their Buffalo Style Hot Wings.


Bingham's Family Restaurant.Lenox, A very popular family style restaurant. Excellent food, specials, and great prices.
Lenox Diner.Lenox, Area coffee shop, specialty is Buffalo Meat.

Charges Family Restaurant.457 8949 11 STATE HWY Moosic,
Courtyard by Marriot.Moosic,
Joey's Pizza & Pasta. 4215 Birney Ave, Moosic, (570) 457- 0896/457-7876. New York style pizza and Italian specialties. THE place for pizza in this general area.
Mark 11. 4001 Birney Ave, Moosic, (570) 348-0290. Family style restaurant with buffet specials. THE place for family food and buffet specials as well.
Ramada - Moosic. Friendly staff.
Days Inn - Moosic. Just outside of Scranton area. Near Montage, Red Barons, etc.See Coupon Page.


Blue Ridge Motel. Small, local, inexpensive place to stop overnight.
Green Gables Restaurant. Local place for meetings, lodges, etc.
Pump & Pantry. Area Convienience store. Snack foods, Gas, etc


Sunrise Lake Campground. Friendly northern campgrounds.See Coupon Page
Nicholson Bridge. Largest Concrete Bridge in the World.


Preate Winery. Local home grown wines.

Holiday Inn Express. of I-81, 30 Concorde Dr., Right at the Airport. Well know chain.
Howard Johnson Motel. Hwy 315 of I-81 Well know chain.
Howard Johnson Restaurant. Hwy 315 of I-81
Victoria Inn. Hwy 315 of I-81 Modern Art Deco large hotel with friendly staff.


Guthrie Inn. 255 Spring St., Sayre. (800) 627-7972Quaint out of the way vacation in the far North of the state.

AAA. Scranton. Full service Triple A Auto Center. (570) 348-2511
Abracadabra Birthday Palace. Without a doubt the best birthday parties in the area. Run by TWO NATIONALLY KNOWN MAGICIANS. 342-5555
Actor's Playhouse. 1256 Providence Rd., Near main Ave., Scranton. (570) 342-9707. One of the most interesting and daring. Takes chances with new and classic scripts. Not just the same old Oklahoma, Annie, etc. We try to support them all we can.
ANTIQUES CORRIDOR 570 945-9395 Large number of antiques shops in one small area.
Best Western University Inn. Franklin Ave. and Mulberry St. Scranton. Only downtown Scranton hotel. Has restaurant.


City Hall. Scranton
Community Bake Shop. One of the oldest most established bake shops in the city. Special occasion cakes. 346 7404 321 Lackawanna Ave Scranton
Days Inn Dunmore just outside of Scranton. New rooms, friendly staff.


Denny's Restaurant. Scranton Rt 6.Scranton-Carbondale Hwy. (570) 346-8006. Open 24 hours and the busiest place in town.
Dunmore Inn
Friendly's 706 N. Blakely, Scranton, (570) 961-1565. Friendly as the name says.
Gas Station at Exit 56 I-81 Scranton
Gracie's Hogies Rt. 6, Dixon City, Scranton. (570) 343-200200 Quick food stop near all the stores and movies.
Holiday Inn Express Scranton Airport Avoca
House of China Clarks Summit, Scranton. One of the better Chinese Restaurants in the area.

HOUDINI MUSEUM Scranton. One of the area's top attractions. Houdini, plus local history, magic shows, souvenirs, etc. Open non stop 7 days a week in the summer. Limited hours by reservation in the winter . See coupon Page.

Lackawanna Station Hotel 700 Lackawanna Ave Scranton Landmark building. Converted grand Railroad Station.
Lackawanna Coal Mine Tour Scranton.

Quality Hotel Rt 6, Scranton Carbondale Hway. Scranton Big hall for meetings, conventions. Restaurant, etc.
Q"s Chinese Buffet Rt 6, Scranton Carbondale Hway. Scranton Nice quick stop. Often have crabs legs on the evening buffet.
RED BARONS BASEBALL Montage Mountain Rd, Scranton. Major League Baseball farm team. Large professional stadium with major league style baseball. Only one in the entrire North East. See web page!
Scranton Public Theater McDade Park Scranton (570) 344 3656 Headed up by award winning writer and actor Jason Miller and Bob Schlesinger.
Skateaway By far the area's most popular facility for skate fans. 1510 S. Main St.
SCRANTON CULTURAL CENTER Scranton . Huge facility that houses area's best concerts, Bway Shows, special events, etc.
Scranton Public Theater. Summer Theater at McDade Park Headed up by Jason Miller. Popular productions by Neil Simon, etc. Scranton (570) 344 3656
Villia Bianca Pizza Pasta 825 N. Keyser Ave., Scranton (570) 961-2131 Pizza on the way to the coal mine, down the road from the Houdini Museum.
Waffle Shop 917 Wyoming Ave. Scranton. Can't get in on a Sunday morning for breakfast. Popular late night spot as well, after theater, etc.


Prince Hotel Tunkhannock. Only downtown hotel. Historic, quaint.
Shadowbrook Resort Tunkhannock. Golf and other sports. Popular teen disco. The place to stay for resort style amenities. Dance, golf, sports, etc.


Shadowbrook Restaurant Tunkhannock. Restaurant and old fashioned ice cream specialties. THE place to eat in this area.

Endless Mountain Resort Great Ski Area
Stone Bridge Inn & Restaurant Great ski area.

Go to

Scranton's Houdini Museum.
Go to

Early theater history in Scranton.
Go to

Scranton's Grand RR Stations built because of Scranton's Iron, Steel and coal.
Go to

Old Railroad promoting clean (?) rides with Phoebe Snow.
Go to

SCRANTON HISTORY. Historic Jewel of the Pocono Region.
Go to

Tour 1 of Scranton. City skyline
Go to

Tour 2 of Scranton. Government buildings
Go to

Tour 3 of Scranton. A tour of Luna Amusement Park .
Go to

Tour 4 of Scranton. A tour of the old coal mining area.
Go to

East Stroudsburg History.
Go to

Delaware Water Gap History.
Go to

Jim Thorpe History.
Go to

Nicholson Bridge. World's Largest Concrete Bridge.
Go to

Stroudsburg History.
Go to

Wilkes Barre History.
Go to

Outside Links
---
---
© 1989-2003 by MagicUSA.No part of any of this document may be reproduced in any form, without written permission. The graphics have been retouched, computer enhanced and resized by the authors.