SE POCONO
Tourist Friendly Restaurants, Attractions and Hotels (QUICK LIST)
Pocono - Scranton Pennsylvania
Official State Map of Poconos Mountain Region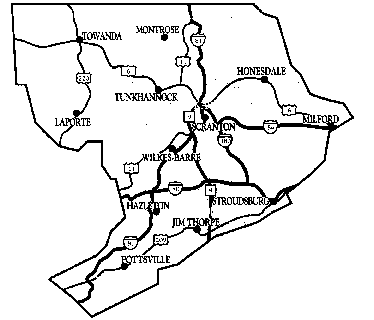 Honeymoon Hotel Packages. CLICK HERE NOW!

Businesses do not pay to be in this guide. Listing is free of all charges. To get on the guide contact our office. magicusa@microserve.net
Comfort Inn Rt 611 Bartonsville PA (570) 476-1500. Near the Crossings outlet stores.
Holiday Inn I 80 Rt 611 Bartonsville PA Near the Crossings Outlet Stores.

Mt. Top Dairy Bar Rt 209 Brodheadsville


Guiseppe's Pizza Rt 209 Bushkill 588-7002 Excellent NY style Pizza. THE place in this area for Pizza and other great specialities. Huge, HUGH portions, enough for 2.
Ken's Woods Campground RD 1 Bushkill A real get-away.

Calico Kitchen Rts 390 &447 Canadensis PA Bar open Daily. Your hosts, George, Barbara and Kim. Great family resort.
Daniel's Top O The Poconos PO Bx 10 Canadensis PA Family resort.
Hillside Lodge & Resort Rt 390 PO Bx 268 Canadensis PA See Hotel link section. Has their own deer farm.


Laurel Run ResortRt 447 Canadensis Near Daniel's Top O' The Poconos.
Merry Inn Rt 390 Canadensis PA Bed & Breakfast.
Pine Knob InnRte. 447, Canadensis, PA. Inn & B&B. Antiques, Honeymoon Packages, Fireplaces.
Village Court PO Bx 448 Canadensis PA

Hostelling International Pocono Cresco The name says it all.

American Cookery Rt 611 Delaware Water Gap PA (570) 420-0481 Popular sit down dining.
Ramada Inn I 80 exit 53 Delaware Water Gap PA The first place to stay as you enter PA.
Delaware Water Gap Diner Delaware Water Gap (570) 476-0132 One of the few that stay open late.

Echo Valley Cottages Lower Lakeview Rd East Stroudsburg
Foxwood Campground 8154 Mt Nebo Rd East Stroudsburg


Big Bass Lake PO Bx 225 (570) 842-7600 Nicely developed.

Kelleys Hotel Lehigh Rd., Gouldsboro A popular landmark.
Gouldsboro Inn Rt. 507, Gouldsboro A popular local eatery. Main one in the area.
Eagle Lake Realty (570) 842-1988 Inexpensive summer homes in the Poconos. Very helpful.
Country Surrey Inn Lake Gouldsboro, Gouldsboro. A quaint place to stay.

Indian Mt Golf Course681 4534 Rt 534 Kresgeville, PA 18333


THUNDER CREEK QUARRY FUN PARK Marshalls Creek
CAESARS POCONO PALACE COUPLES RESORT Great for a honeymoon, romantic getaway, AND even a wedding
Mountain Manor Golf Course Drive Marshalls Creek (570) PA Popular for banquets and golfing. Considered to be one of the best places to stop for golf and banquets.
Pocono Go Carts RT. 209 Marshalls Creek (570) 223-6299 Popular with the kids. THE place for Go-Karts in SE Poconos.
Mr Z's (570) 223 0870Marshalls Creek Fast and varied supermarket chain.


Pocono Playhouse Rt 390. (570) 595-7456 Mountainhome. Local and NYC actors with changing shows just about every week.

Brother Bruno's Pizza Mt Pocono Plaza Excellent NY style pizza. THE pizza place in this area.
Casino Theater Rt 611 Mt Pocono (570) 839-7831 Old fashioned ice cream parlor with adjoining movie theater that plays all the hits. Great for kids and families.

CAESARS PARADISE STREAM COUPLES RESORT Mt Pocono Great for a honeymoon, romantic getaway, and even a wedding
Garden Motel 546 Pocono Blvd. Mt Pocono Helpful staff.
Kentucky Fried Chicken Mt Pocono Plaza.
Memorytown Grange Rd. PO BX 147 Mt Pocono


Mount Pocono Campground Rt 196 Mt Pocono One of the few in the area.


Pocono Adventures Riding Stable (570) 839-6333. THE riding stable in the Poconos. Varied programs. More choices. Located 1 mile S. of Mt. Pocono off Rt. 611 on Meadowside Rd.


Sullivan Trail Motel

Twirl Top (570) 897 6888 Great ice cream and other summer treats. Best in this area.
Shady Acres Campground

CAESARS BROOKDALE FAMILY RESORT Caters to families, reunions, kids, etc.


Kasa's Pizza Great NY style pizza, in the Shawnee Welcome area. 476 9426Shawnee on Delaware
Eagle Rock Lodge
Shawnee Properties Shawnee
SHAWNEE PLACE PLAY & WATER PARK Shawnee-on-Delaware. I-80. Exit 52. (570)\421-7231 Reasonable and friendly. Great place to take the youngsters while in the area. Special days. See coupon Page.


Best Western Pocono Main / 7 Stroudsburg PA (570) Right in the downtown area.
Delaware Water Gap KOA National campground.
Echo Valley Cottages Lower Lakeview Rd. E Stroudsburg
Foxwood Campground 8154 Mt Nebo Rd. E Stroudsburg (570) 421-1424 Another popular campground in this very popular area.
Steak House Delaware Water Gap-Stroudsburg (570) 424-0950 Excellent chinese food just across the NY border.
KITTATINNY RAFTING AND CAMPGROUNDS THE best Whitewater Rafting on the Delaware. See coupon Page. 1-800-FLOAT-KC
Delaware Water Gamp KOA. April 1-Oct. 21. Grassy, wooded and open sites. Cable TV, hayrides, ice, planned activities. Pool open Memorial Day - Labor Day.


--> Friendly, home town feeling. Beautiful landscaping, done with love and care.


--> Key City Diner Stroudsburg
Pocono Vacation Park Rd 5 Stroudsburg Big and organized campground.

Streamside Campgrounds
Walters Motel Right in the downtown area.




Diner at Tannersville Rt. 715 Tannersville (570) 620-2303 Near Crossings Outlet.
Barley Creek Brewing Camelback Rd 629 9399
Diner at Tannersville Rt 715 & 80. 620-2303/
Galeano' Pizza Camelback Rd 620-1461
Smuggler' Cove Rt 611 629-2277
Tannersville Inn Rt 611 629-3131


Bono Pizza Rt. 196, Tobyhanna. (570) Family style. See food coupon page.
Hemlock Campgrounds Hemlock Dr., Tobyhanna,
Mr Z'sRt. 196, Tobyhanna. (570) 894-8982
Tara's Rt. 196, Tobyhanna. (570) 894 4119. Free local delivery. Open 7 days. Breakfast, Lunch & Dinner. Catering, party hogies. See food coupon page.
See coupon page.

Go to

Scranton's Houdini Museum.
Go to

Early theater history in Scranton.
Go to

Scranton's Grand RR Stations built because of Scranton's Iron, Steel and coal.
Go to

Old Railroad promoting clean (?) rides with Phoebe Snow.
Go to

SCRANTON HISTORY. Historic Jewel of the Pocono Region.
Go to

Tour 1 of Scranton. City skyline
Go to

Tour 2 of Scranton. Government buildings
Go to

Tour 3 of Scranton. A tour of Luna Amusement Park .
Go to

Tour 4 of Scranton. A tour of the old coal mining area.
Go to

East Stroudsburg History.
Go to

Delaware Water Gap History.
Go to

Jim Thorpe History.
Go to

Nicholson Bridge. World's Largest Concrete Bridge.
Go to

Stroudsburg History.
Go to

Wilkes Barre History.
Go to

(links)local hotels, local museums, more Houdini links, CityLink USA, etc. All with Web Site links
---
---
© 1989-2003 by MagicUSA. No part of any of this document may be reproduced in any form, without written permission. The graphics have been retouched, computer enhanced and resized by the authors.